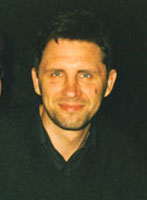 George Kuchar erhielt bereits seit seinem 5. Lebensjahr Klavierunterricht. In seiner ersten Schulband spielte er eine selbsgebaute Bassgitarre. Seitdem steht er mehr oder weniger ununterbrochen auf der Bühne.
Später studierte er Radioelektronik (Dipl.-Ing.) und Musik (Klassisches Klavier). Es folgten Club-Gigs, Open-Air-Festivals und eine langjährige Tätigkeit im Studio eines Fernseh- und Radiosenders als Toningenieur, Session-Musiker und Arrangeur. Dazu kam die Zusammenarbeit mit den Sinfonieorchestern und kleinen Besetzungen in der Film und Theaterbranche.
George Kuchar took the piano lessons since he was 5. In his first school band he played self-build bass guitar. Since he is more or less continuosly on stage.
Later on he studied electronics (Graduate Engineer) and music (classic piano). He played in clubs and at open-air festivals and worked for several years as recording engineer, session-musician and arranger in the studio of a TV- and broadcasting station. Also he worked with symphony orchestras and combos in the film and theatre industry.




Eines der wichtigsten Projekte in den 80er Jahren war die Band "Synthesis", die unter anderem viele Jahre als Studioband bei Rundfunk und Fernsehen agierte.
One of the important projects in the 80's was the band "Synthesis", that also acted a lot of years as a Radio and TV studio band.





Von 1994 bis 1996 wirkte George Kuchar bei verschiedenen Live- und Studioprojekten in Berlin mit. In dieser Zeit entstand die Zusammenarbeit mit dem Berliner Produzenten und Gitarristen Jörg Sieghart. Auf seinem Label Tunesday Records (www.tunesdayrecords.de) sind auf den Samplern One Step Further 1 und 2 die Songs "You're Not Lolita" und "Something So Frail" (Texte: Gunnar Kunz) erschienen. Letzteres wurde vom Berliner Radiosender JAM FM ausgestrahlt.
Between 1994 and 1996 George Kuchar took part in several live- and studio-projects in Berlin. During this time the co-operation with producer and guitar player Jörg Sieghart began. His label Tunesday Records (http://www.tunesdayrecords.de) released two samplers (One Step Further 1 and 2) with songs of George: "You're Not Lolita" and "Something So Frail" (on air at Radio Station JAM FM).



Seit 1996 war George Kuchar in der Jazz- Rock- und Popszene im Raum Stuttgart aktiv. 2007 entstand in Kooperation mit dem Berliner Schriftsteller Gunnar Kunz (www.gunnarkunz.de) das Musical "Seelenvogel".
Since 1996 George Kuchar was a part of the jazz-, rock- and pop-scene in Stuttgart. 2007 the musical "Seelenvogel" was released in co-operation with Berlin author Gunnar Kunz (http://www.gunnarkunz.de)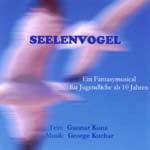 Promo-CD zu Musical "Seelenvogel"
Auffürungsrechte über den Deutschen Theaterverlag









Am 7.03.2014 erschien die Single "This Is Magic" beim digitalen Musikvertrieb Believe Digital (London, GB). Mehr dazu auf der Seite "George Kuchar Project".
On March 7, 2014 the single "This Is Magic" was released by digital music distribution Believe Digital (London, GB). For more information see "George Kuchar Project".




Alle Lieder von George Kuchar kann man z.B. auf Spotify, Apple Music oder Deezer hören.
All songs by George Kuchar you can hear for example on Spotify, Apple Music or Deezer.

https://open.spotify.com/artist/0WHo1SAoFh2vdGs0mlvH4O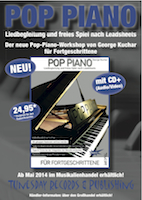 Im September 2014 ist im Berliner Verlag "Tunesday Records" das neue Lehrbuch von George Kuchar erschienen:
"Pop Piano - Liedbegleitung und freies Spiel nach Leadsheets"

Promo-Video on YouTube unter:
https://www.youtube.com/watch?v=1yQ_IjNVWhM&feature=youtu.be

Alle Etuden im Buch sind verkürzte Instrumentalversionen der Lieder von George Kuchar (zu hören z.B. auf Spotify, Apple Music oder Deezer)


Seit September 2014 wurden mehr als 1.700 Bücher verkauft.

Pressestimmen:

"...Neben musiktheorethischen Kenntnissen stehen die Liedbegleitung und das freie Spiel nach Leadsheets im Vordegrund, sodass bekannte Melodien mit gut klingenden Begleitfiguren unterlegt werden können..."
Wernauer Anzeiger, 15.05.2015

"...Eine CD mit zahlreichen Hörbeispielen und fünf Videos runden das Lernpaket sinnvoll ab..."
Esslinger Zeitung, 18.05.2015

"..."House of the Rising Sun" oder "Amazing Grace" sind bekannte Songs, an denen typische Begleitmuster Stück für Stück besprochen werden. Der Autor nimmt dabei seine Schüler an die Hand, geht auf gängige Kadenzen in Popsongs ein, gibt Tipps und Tricks weiter und lehrt, Akkordsymbole und dazugehörige Begleitmuster zu verstehen..."
Der Teckbote, 19.05.2015

Rezensionen der Käufer:

"Tolles Buch zur Harmonielehre, übe zur Zeit die Kadenzen mit Ihren Akkordumkehrungen. Sehr gut wenn man vorher nur klassische Stücke geübt hat." Marko Frenzel

"Sehr schönes Anfängerbuch. Meine Frau liebt es." Raffael Di Gioia

"Dies ist ein sehr gelungenes Buch für Fortgeschrittene und für Liebhaber des Pianos. Deshalb eine absolute Kaufempfehlung des Buches "POP PIANO". Alexander Fischer



Im März 2017 ist bei "Tunesday Records" das zweite Lehrbuch von George Kuchar erschienen:
"Pop Piano - Improvisation"











Rezension in Keyboards Nr. 1, 2018:

"Pop Piano Improvisation" richtet sich an fortgeschrittene Piano-Schüler, die schon über ein wenig theoretisches Grundwissen und Spielerfahrung verfügen und eignet sich hervorragend zum Selbststudium, zur Studienvorbereitung oder als Unterrichtsbuch für den Instrumental-Unterricht.
Sehr zu empfehlen!



George Kuchar
One Step Further Vol.1 / Sampler (1999, Tunesday Records)
GK Project (2000, Tunesday Records)
One Step Further Vol.2 / Sampler (2001, Tunesday Records)
Down In Rio (2011, Georgetown Records)
Mama Blues (2012, Georgetown Records)
This Is Magic (2014, Georgetown Records)


Playbacks-Serie von Tunesday Records (Keyboards)
Playbacks zum Improvisieren "Modale Grooves" Vol.2 (2003)
Playbacks zum Improvisieren "Blues" Vol.3 (2005)
Playbacks für Drummer "Blues" Vol.5 (2004-2006)


Songs Of Lemuria (Arrangement)
Deep (2007, Wannsee Records)





Seit 2018 lebt George Kuchar in Kufstein, Österreich
Since 2018 lives George Kuchar in Kufstein, Austria